Thank you to Beach Sloth for reviewing our album!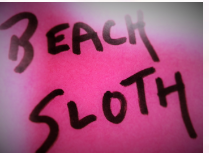 From Beach Sloth:
A pure tropical paradise emerges on Slack Key 'Ohana's chilled-out tiki bar celebration of their self-titled effort. With a sound that would make the Beach Boys proud, this is the sort of sound that conjures up imagery of year-round palm trees, nice cool drinks by the poolside, just a pure heavenly mood. Layer upon layer is added resulting in a warm, welcoming approach that has a clarity about it, like everything has finally come into focus. Thanks in part to this transcendent atmosphere the songs land. Every piece builds off the last and the whole collection is best experienced as a whole, to get the true sense of being transported. On a side note, it is unsurprising that such a joyous, happy group comes from my hometown of San Diego, for they embody that city's magic with glee. 
            While some of the reference points are crystal-clear, particularly their love of the sunny harmonies of the Beach Boys and Elvis, there are deeper influences as well. For their expressive slide guitar work they draw from the classic work of Shintaro Sakamoto's playful output. Like his work, they too possess a spirit of fun about the whole of the experience. Going perhaps a bit further out, their easy cool demeanor brings to mind the laid-back vibes of Sam Prekop of the Sea and Cake, for they incorporate small elements of jazz and instrumental looseness within the work. 
            Their opener and title track "Slack Key 'Ohana" sets the tone for what follows. On this piece their fondness for old-school recording styles adds to the warmth that the sound radiates. Rhythms gain a natural pastoral beauty with the tender "Ku'u Lei Nani Mai'Oe". Everything about it, from the light touch of the percussion to their resonant vocals makes the thing a truly communal experience. Playing is pitch-perfect on the highlight of "Kahuku Slack Key" that features a grand feeling of exploration. Soothing to its core the song has so much soul infused in each delicately balanced gesture, making it easy to get lost in. Slide guitar give "Hanalei Moon" that extra dreaminess. Their voices have a cool breezy aspect to it, for the sound at times brings up the nostalgic cadence of early the High Llamas in terms of their lovely melodies. Bringing it all home is the flexibility of "Slack Key 'Ohana (Ha'ina Hou)" which closes the trip out. 
            Pure happiness with a quiet sense of togetherness Slack Key 'Ohana self-titled work proves to be the perfect sonic embodiment of Waikīkī.
Link to Beach Sloth Review: http://www.beachsloth.com/slack-key-ohana-slack-key-ohana.html